As a mother of five, I seldom find time to rest, let alone all out relax! My father has a hot tub and once in awhile I will manage to find the time to escape to sit in the warmth and steam, outside under the stars with the smell of the pine trees wafting over me. Well, I decided that it is hard enough to get out there, it's time to get one of my own! I talked to the hubby and it was a done deal. Our credit union was having a spa sale so we got a great deal and now we are in the process of building the gazebo around it and deciding on
hot tub accessories
(like a good looking cabana boy!). I found a great website for hot tub covers, they had great prices and some amazing designs! I had no idea you could do
that
with a hot tub cover! Wow! So hopefully next thing I know, I will be relaxing in my own hot tub paradise! Check out the one I chose!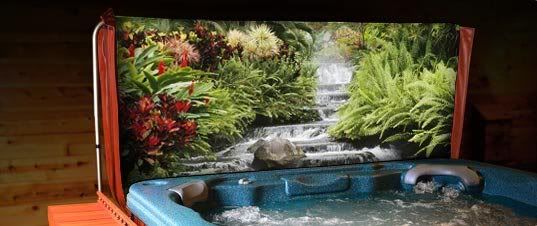 Isn't it amazing? Really, I will be relaxing in my own private paradise. I have even bought ferns to accent around the deck! Anyone want to join me?
I do have to point out just one thing, just so you all don't think that I am all about the aesthetics, after all, my husband does, this particular cover is made with heavy duty re-enforced outdoor vinyl and the most durable and proven ink sets available. It is tested and proven to be waterproof, resistant of the chemicals used in most spa's, they won't tear, mildew or shrink.
And as for the wood on the gazebo, I might have fought against that horrible looking, green, treated wood with the little holes all over in it, but I agreed to redwood and yes, resealing it every year. And I did give in on the plastic vs. real wood flooring. But in my defense, what good is a spa if it is not relaxing? And just how relaxing can it be without being
aesthetically
appealing??? So, my paradise is now in the works, complete with a beautiful spa cover to give the look of a plush forest, redwood gazebo and plastic floor (awww, we all take a little, give a little). Now, if I could just find that cabana boy!